Thursday, January 7, 2021

Forty Five Women - 1920's ?1:18 am cst



Wednesday, January 6, 2021

The Azores Inverted Black Overprint of 1871-1875 Scott #25a1:45 am cst



Saturday, January 2, 2021

Forgotten Smiles1:52 am cst



Tuesday, December 29, 2020

Who Was William Ray Flesher & Why Was He In Japan In 1948 ?4:52 pm cst



Sunday, December 27, 2020

Philatelic Fraud - Dirty Deeds & A Warning !5:05 pm cst



Saturday, December 26, 2020

My First Stamps - Lundy Island11:58 pm cst



Friday, December 25, 2020

The First Christmas Seals 1907 - 19112:03 am cst



Wednesday, December 23, 2020

Look Up6:14 am cst



Sunday, December 20, 2020

To The Girls7:42 pm cst

My Harley-Davidson4:37 am cst



Wednesday, December 2, 2020

Merry Christmas & Happy New Year !2:17 pm cst



Sunday, November 15, 2020

Teddy B, Teddy R, Donald T & Elvis P11:46 am cst



Saturday, November 14, 2020

Visual Scribble & Ish Kabibble10:34 am cst



Saturday, October 31, 2020

San Angelo Army Air Field - 19421:38 am cdt



Wednesday, October 28, 2020

Supreme Court Justice Amy Coney Barrett - Deuteronomy 16:2012:34 am cdt



Monday, October 26, 2020

Denise, David & Rose - Three Coins In The Fountain1:01 pm cdt



Saturday, October 24, 2020

Good Advice From A Great Doctor11:00 pm cdt



Friday, October 9, 2020

19885:08 pm cdt



Saturday, October 3, 2020

Jenny's A Sweetheart !10:41 pm cdt



Sunday, August 30, 2020

Thank You Rhodes College For Great Health & Good Times9:38 am cdt


2021.01.01
2020.12.01
2020.11.01
2020.10.01
2020.08.01
2020.06.01
2020.05.01
2020.03.01
2020.02.01
2019.12.01
2019.05.01
2019.04.01
2019.02.01
2019.01.01
2018.12.01
2018.11.01
2018.10.01
2018.09.01
2018.08.01
2018.07.01
2018.06.01
2018.02.01
2018.01.01
2017.12.01
2017.11.01
2017.10.01
2017.09.01
2017.08.01
2017.07.01
2017.06.01
2017.05.01
2017.04.01
2017.03.01
2017.02.01
2017.01.01
2016.12.01
2016.11.01
2016.10.01
2016.09.01
2016.08.01
2016.07.01
2016.06.01
2016.05.01
2016.04.01
2016.03.01
2016.03.06
2016.02.28
2016.02.21
2016.02.14
2016.02.01
2016.01.01
2015.12.01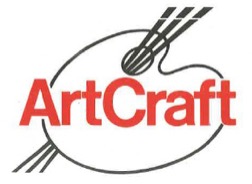 For the next few weeks I'll be talking about the first day covers of ArtCraft along with everything else.
ArtCraft closed it's doors recently after 76 years of making philatelic history.
I'm predicting a sudden, salubrious escalation in the value of the ArtCraft cachet, all ArtCraft first day covers and ArtCraft portrait cards.
Including those connected to the Postal Commemorative Society
Their departure signals the end of an extraordinarily crucial, very important, highly significant and exceedingly meaningful period in philately
A mournful signal which will be heard around the world and lamented throughout the multitude of collectors
Leo and Sam August treasured their associations with the world's greatest philatelists
Leo's contributions to our hobby were significant enough to earn the coveted Luft Award and a place in the American Philatelic Society Hall of Fame.
ArtCraft has well-earned it's place in the great chronological record in the history of philately.
Their raised ink, line-engraved intaglio printed cachets rank among the most aesthetic in the world.

ArtCraft cachets are not just beautiful.

They are works of art that showcase the wonders of the world and illuminate the powers of human creativity and ingenuity.
The Coober Pedy Cover
One of the World's Great Philatelic Rarities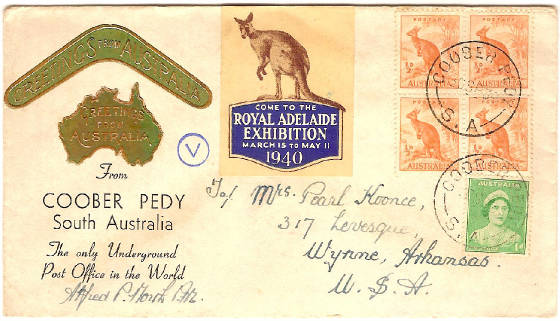 Could this become la pièce de résistance de toute la modern Australian philatélie ?
Coober Pedy is a town in northern South Australia. The town is sometimes referred to as the "opal capital of the world" because of the quantity of precious opals that are mined there. Coober Pedy is renowned for its below-ground residences,called "dugouts", which are built in this fashion due to the scorching daytime heat. The name "Coober Pedy" comes from the local Aboriginal term kupa-piti, which means "white man's hole".

Opal was found in Coober Pedy on 1 February 1915; since then the town has been supplying most of the world's gem-quality opal. Coober Pedy today relies as much on tourism as the opal mining industry to provide the community with employment and sustainability. Coober Pedy has over 70 opal fields and is the largest opal mining area in the world.

Coober Pedy - no village, no buildings, no roads, just desert, mountains dotted with boulders. A bizarre lunar landscape, but for opal seekers is the most exciting place on earth, where again every day is the true challenge, happiness and luck just a shovel width apart and where life is defined by two words: winners and losers. Coober Pedy, grab your hat, throw it into the air and where it lands start digging !